Since it's been seventy degrees here for much of the "winter," we've been doing quite a bit of work in the garage and outside.  One of the by-products of a military life is that a family ends up storing a bunch of stuff for "the next house."  We've got a full complement of yard care gear that we'll never use in our plastic grass/xeriscaped yard here in Vegas, for example.  We've also got a whole lot of winter gear that will be great when we've finally got snow to shovel and play in again.
Since we were outside and the entire contents our garage had emptied itself onto the driveway, the kids found plenty of stuff to try to kill themselves with or otherwise make into toys.  If you're wondering, this is what sledding looks like in Las Vegas.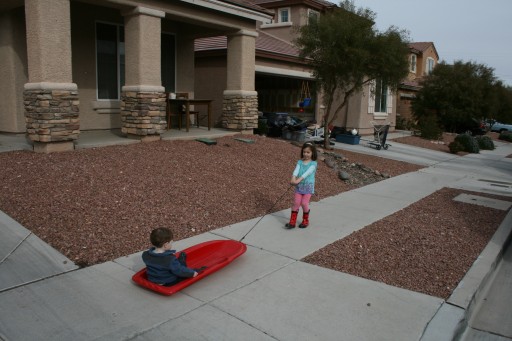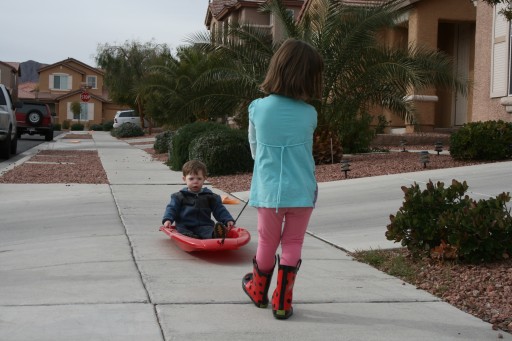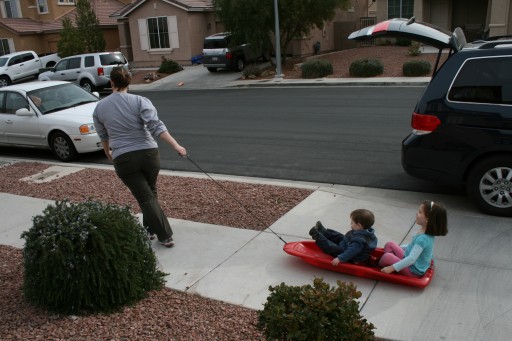 These kids aren't going to know what hit them when we finally get to Dayton and they have trees, grass, leaves, and actual weather events to play with.  It'll be like having a park in our own yard!