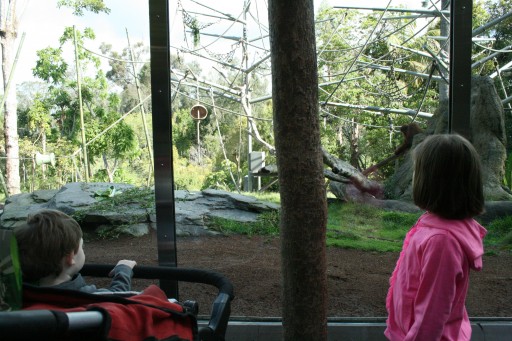 First exhibit of the day were some monkeys (chimps?).  Our little monkeys loved it!
It would have been insane to go to San Diego and not visit the world's best zoo.  And, since we're not really crazy, we went.  Rain was in the forecast for most of the days we were visiting, so we took advantage of the sunny weather on our first day in town and went to see some animals.  The truly lovely thing about San Diego was that it wasn't hot or cold, just pleasant, so the animals were out and about doing their thing.  So much more fun to visit them when they're playing than when they're scrambling for shade because it's a bajillion degrees outside.
We got to the park right when it opened at 9am and stayed until about 2pm.  I think we saw everything but the tigers.  The kids did great with all the walking and the no-nap day and Matt and I were in vacation mode (i.e., give them whatever they want so that they're happy and we all enjoy this).   We had so many pictures from the day, it was hard to choose just a few.  So, will share a bunch with captions to tell this story.
Taking the double jogger was key.  Ava needed a place to sit by the end of the day!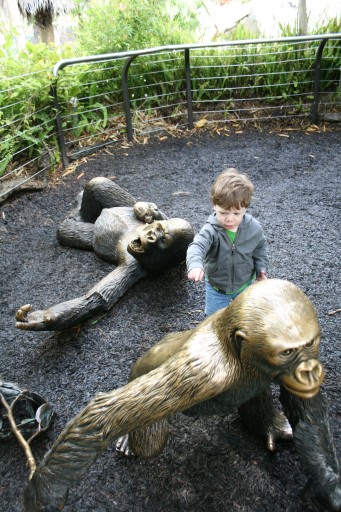 These statues were all over the zoo and the kids loved climbing on them.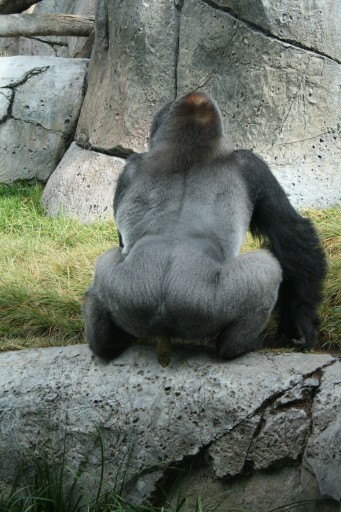 Early morning outing for the male gorilla, so that he can "take care of business." This was pretty hilarious.
He walked right over in front of us, turned his back and got to work.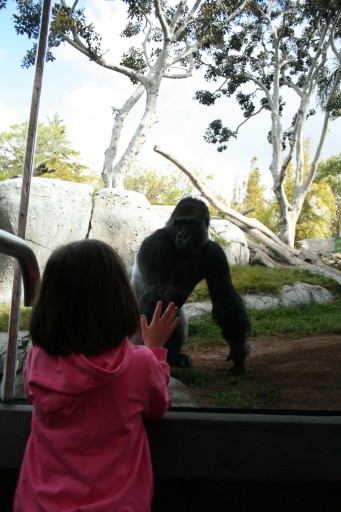 When he was done, he walked right over to the glass and got nose to nose with Ava.
Guess he wanted some privacy.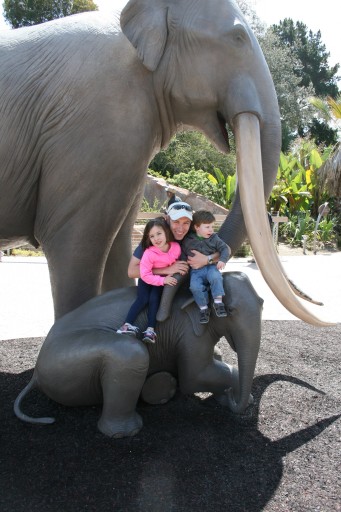 More playing/posing with the statues.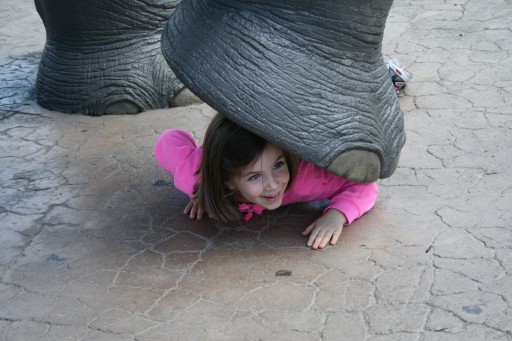 Totally her idea.
On Ava's insistence we rode the gondola before lunch, from the top of the hill. Turns out she's brilliant.  No line, and we got a roundtrip ride with no wait because our stroller didn't fit.  Awesome!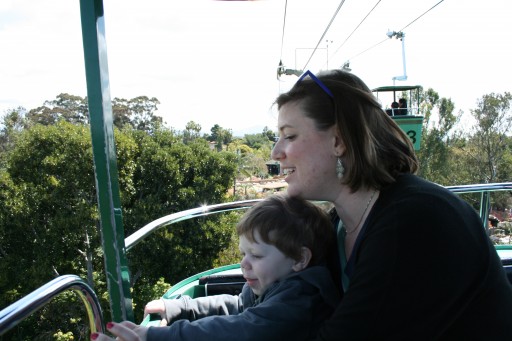 Noah loved this ride.  I was a nervous Nelly and had a pretty tight hold of him.
The kid has no fear and is a total thrill junkie.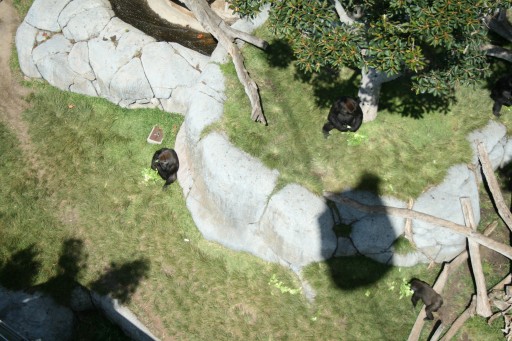 More gorillas out to play as we coasted overhead.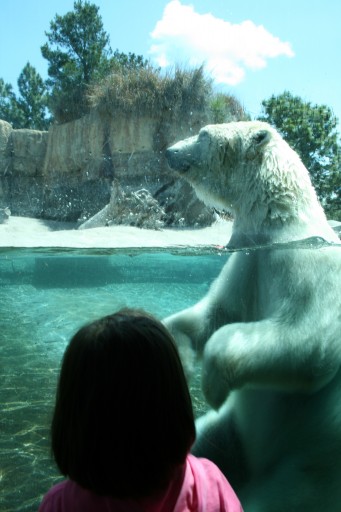 The polar bears put on quite a show! They played a little water polo together and were very entertaining!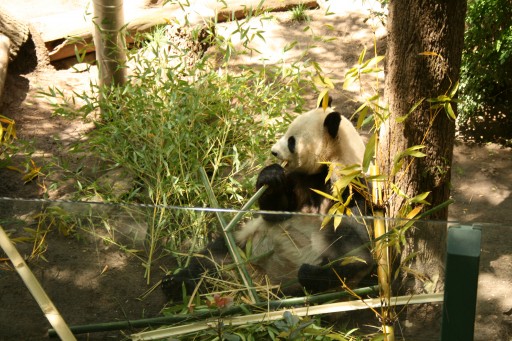 Can't go to the San Diego Zoo and not see the pandas, right? We waited in line for about forty minutes, but the kids were pretty patient. I will say that I've not seen pandas this close before.  The ones in DC are far from the fence and usually hiding.  These guys were cute!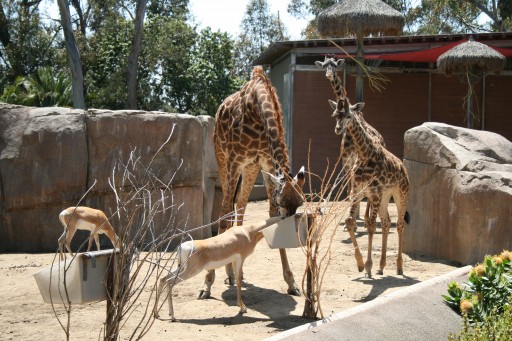 Noah LOVED the giraffes.  They were pretty busy and very near the fence, so he had a great view of them.
At the end of the day, we wound up at the petting zoo. The kids brushed the goats and Noah played with their dirt.
Gross, but they had a great time.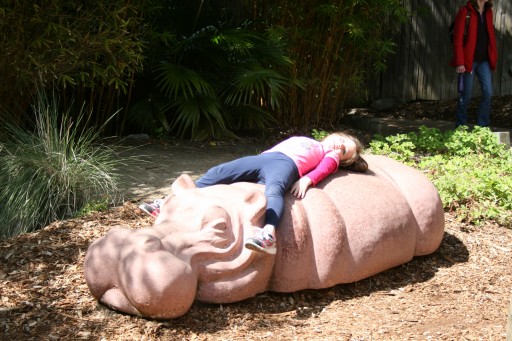 This about sums it up.  One last pose with a statue and, yes, we were all wiped out!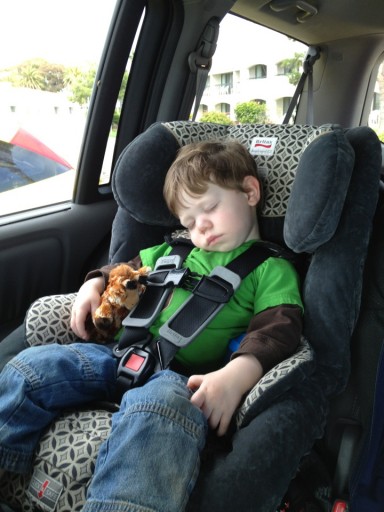 Passed out snuggling his new giraffe buddy on the ride back to the hotel.
Thanks for the memories, zoo friends!