We love our kids' school for a lot of reasons, but one of them is that they throw big holiday parties and invite all the families in.  I remember that it was always so fun to be in my school "off duty" when I was a kid and so I'm glad our kids get that chance here too.
The Friday of Winter Festival is also a school-wide pajama day, so the kids went to school in jammies and parents are invited to wear jammies for the festival.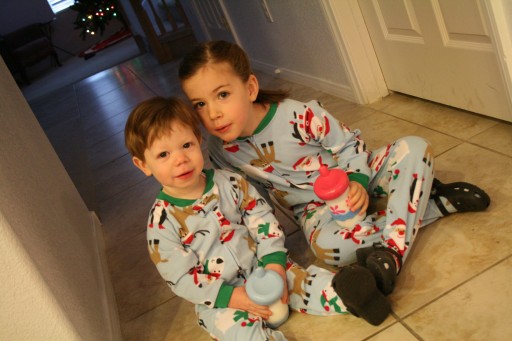 These two were so cute, it just made my heart ache that day!
At our school, each of the classrooms is open with a fun activity or project for the kids to do and there are decorations and snacks throughout the hallways.  But the main event is that each of the classes in the school practices a song or poem for weeks in advance and then does a little performance for the families at Winter Festival.
I'm so grateful for this school because they're so fun!  I can't imagine opening a whole classroom, filling it with sparkle paper and glitter and then inviting kids in to go nuts.  Can you imagine the mess?  But, no kidding, on Monday morning, you'd have never even known it happened.  Talk about extra effort for the good of the kiddos.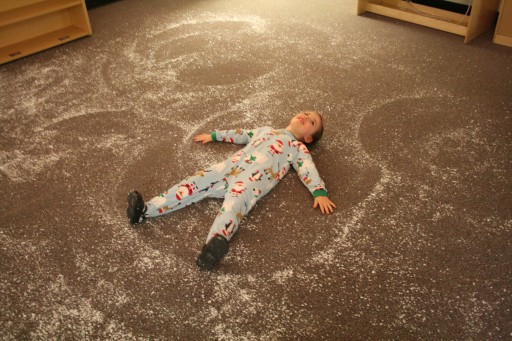 Making glitter snow angels.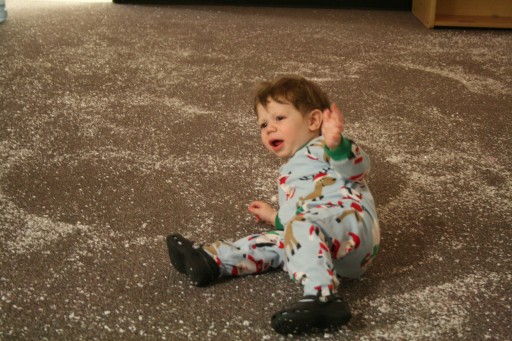 Noah wasn't so sure glitter snow angels were awesome.
The babies and toddlers videotape their performances and we get to watch the movie on the big night since there's no way they'll perform for a big group on demand.  But, the bigger kids all do a little show and it's super cute.
Ava's class performed the poem "Falling Snow" and then sang "Jingle Bells."  We got an advance preview of her performance at home before we left for the party.
Ava was pretending to be shy when it was her group's turn to perform and we're not really sure why.  We know she knew her stuff and she's quite the ham, so that will probably always be a mystery.  Regardless, we sure had a fun time and all those cute performances sure made up for the sugar crash the next day!