Even though we'd lived within 400 miles of a natural wonder for four years, we didn't get around to visiting until a month before our PCS. (That's the way it goes, right?) We were so fortunate to make our first trip to the Grand Canyon with Grammie & Grandad, who were also on their first trip.  We all met at a McDonalds in Williams, AZ, and then drove into the park together. Of course, when we got to the sign to make it official, we had to stop for a photo opportunity!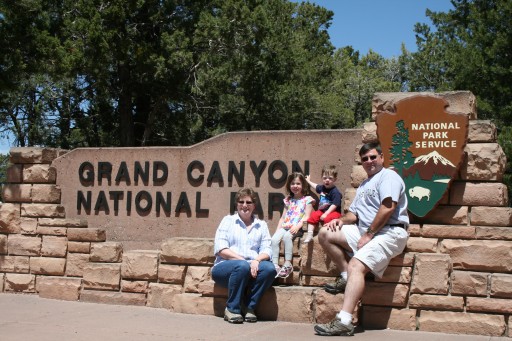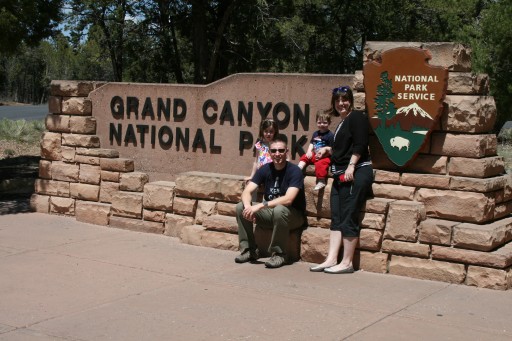 From there, we headed straight to the visitor's center to pick up some maps (Whoozers was demanding one since we wouldn't give up the one we were navigating the car with) and to get our first view of that big hole in the ground. Let's just say…it definitely delivered a "wow" moment. They weren't kidding when it was named "Grand."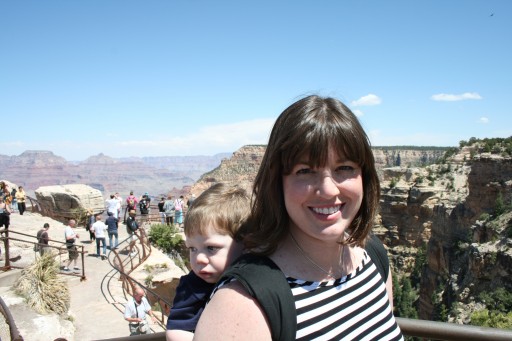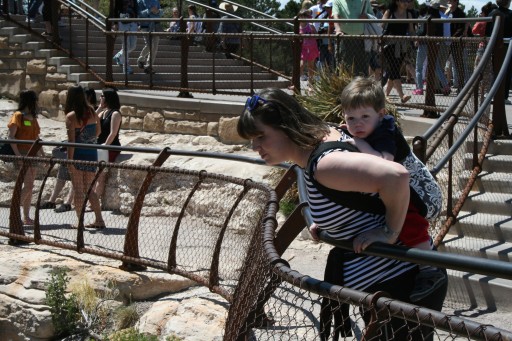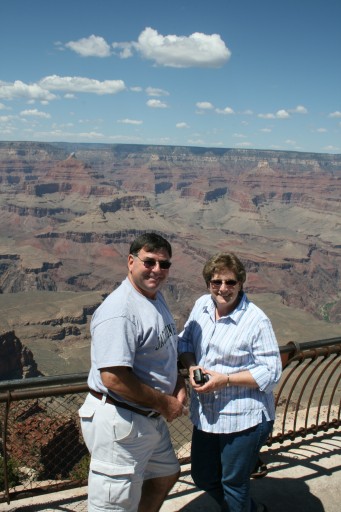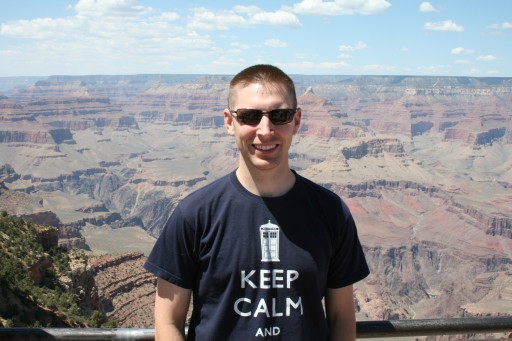 We were fortunate to be staying in one of the in-park lodges with an adjoining room to Grammie & Grandad.  Oh, the luxury of adjoining rooms!  Easy access to hand kids off one direction or the other so everyone has a chance to shower, a place to hang out after bedtime and, most importantly, double the space for kids to run amuck during the short time we spend inside on this trip. Such a great thing!
After we got the lay of the land from the visitor center, we watched a short movie about the history of the canyon and then went to check in at our room. We got settled, grabbed some dinner and then headed out to watch our first sunset. Because we had heard a few horror stories and were extremely paranoid, Ava spent her visit to the Grand Canyon on a leash. We wouldn't normally go for something like that but we figured better safe than sorry. Whoozers was mostly cooperative when we explained that we just wanted to keep her safe.  But, when we got out of the van to head to the lookout point, she cracked us all up by saying, "OK, who's going to walk me like a dog?"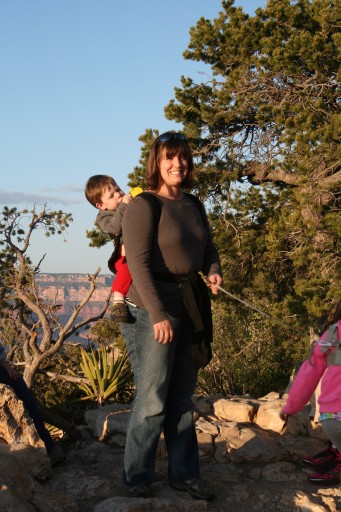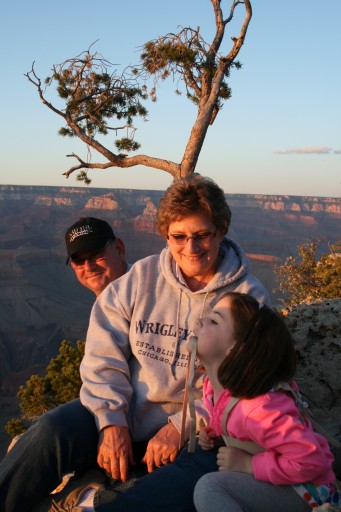 The next morning, Grammie and Grandad went to watch the sunrise while the rest of us caught up on some sleep.  Then, we headed for a wonderful breakfast at a historic lodge before our big hike down Angel Trail.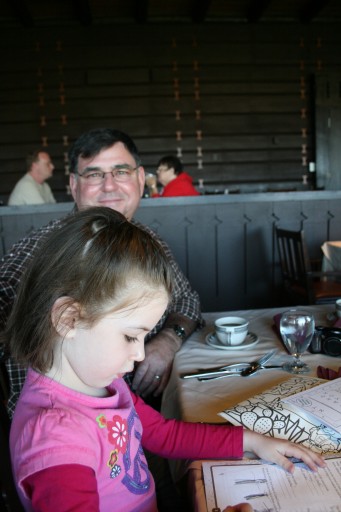 Let's be honest, there's not a bad view of the Canyon.  Even the little spot right outside of the restaurant was a scenic vista!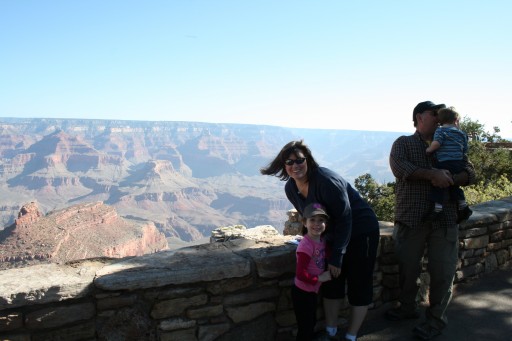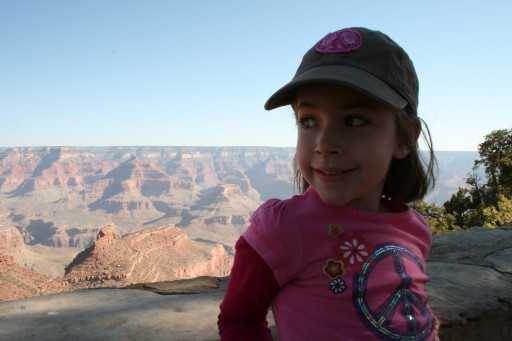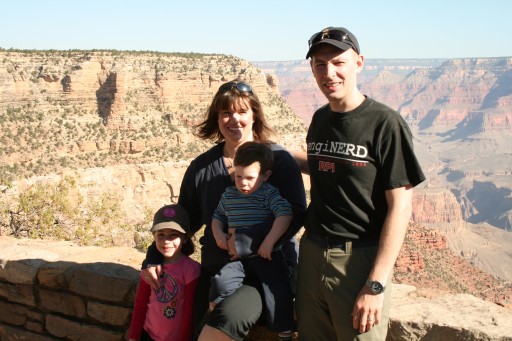 Since our bellies were full and we were full of energy, we geared up and struck out down the Bright Angel trail.  This is one of the trails folks who are hiking the whole Canyon would use to reach the bottom.  We only intended to go a little ways down before turning around and heading back out.  We were carrying a baby on one back, had a pre-schooler on a leash, and a woman deathly afraid of heights along for the ride.  Needless to say, we took our trip pretty slowly and were careful not to push too far.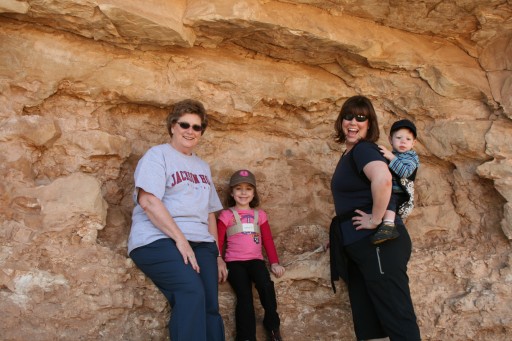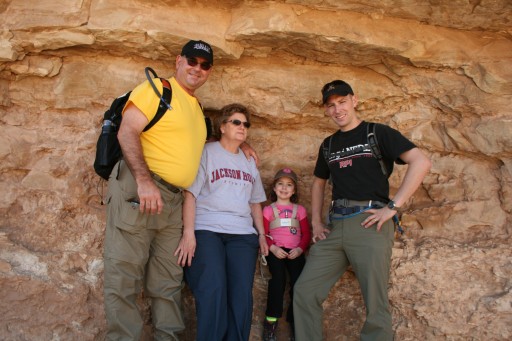 This was about as far as Grammie got before she turned back to go enjoy the Canyon from the safe space of a large window. Grandad walked her back and we kept on moving downhill for a ways.  Then, we found this….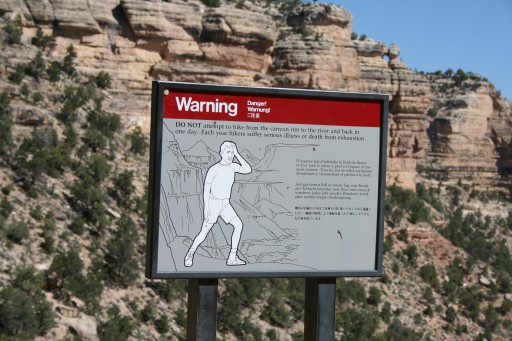 It's a very valid warning about the dangers of hiking the canyon unprepared.  However, signs like that are just begging to be mocked. Exhibit A…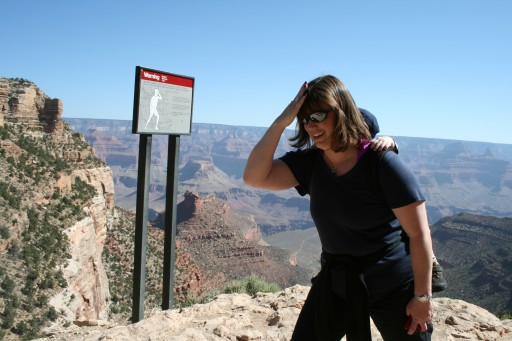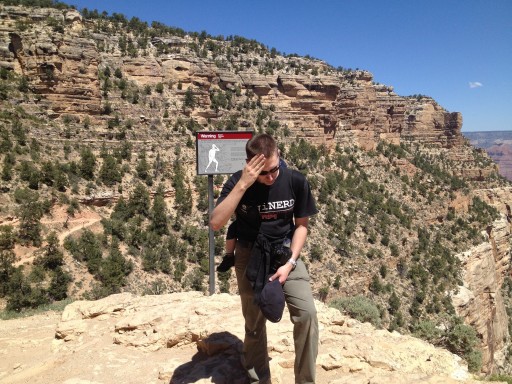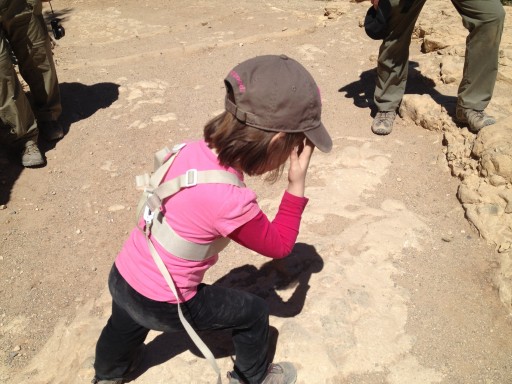 Eventually, Grandad caught up to us on the trail and we climbed down a bit more before turning around.  The path back up was more of a mental journey than a physical one, as we had a very tired preschooler on our hands.  But, she was able to press through and make it back to the top.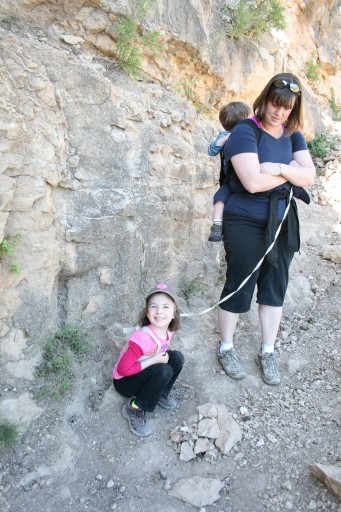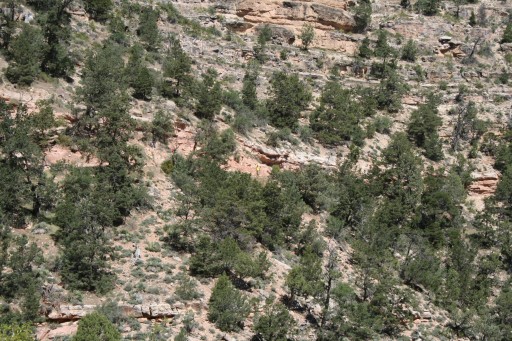 Do you see Grandad in that photo?  Look at the clearing in the middle…he's wearing a yellow shirt.  Didn't seem like that far, but photos don't lie!
Of course, when we were done, we all felt a little like this…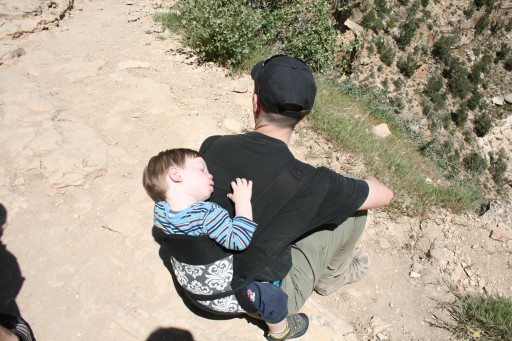 We grabbed some well-earned lunch back at the top of the canyon and then spent the rest of the afternoon attending the necessary lectures to earn Ava her Junior Ranger badge. We learned about California Condors and did a few activities in here Junior Ranger book. The swearing in ceremony was so cute!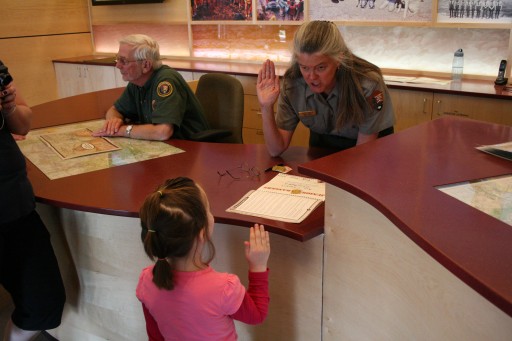 And then, it was time for another sunset at yet another lookout point.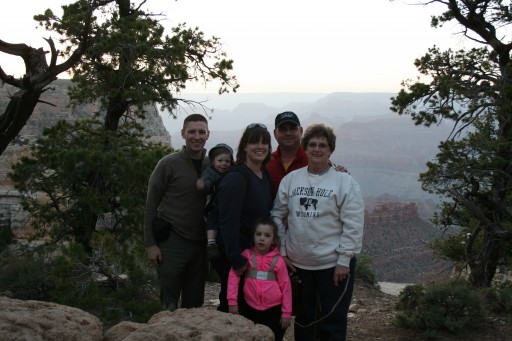 The next morning, Matt and I went to check out the sunrise while the kids slept safely in the room (hooray for adjoining rooms!). It was gorgeous and I think there are some photos somewhere, but I don't have them ready for this post. Because we'd exerted ourselves so much the day before, we were all running a little low on energy and decided to take a bus tour out to one of the edges of the Canyon.  We got off the bus at several stops to take a ton of photos and look for Condors (we actually saw three on this trip!).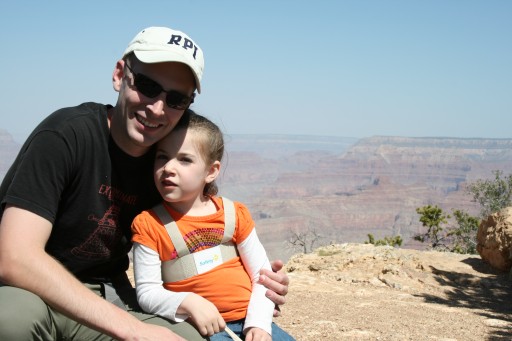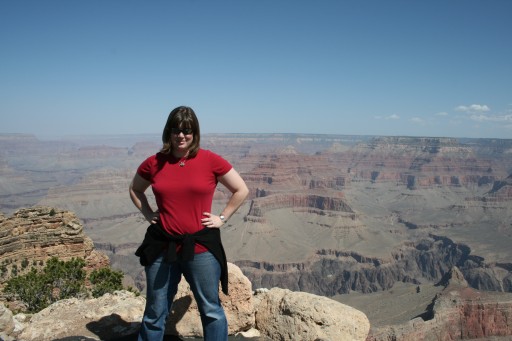 Even though this was a bus tour, we still ended up doing quite a bit of walking.  First, we felt like this…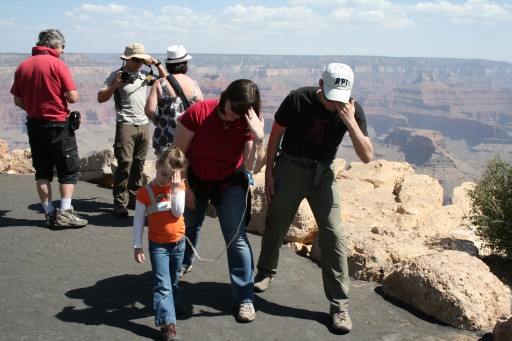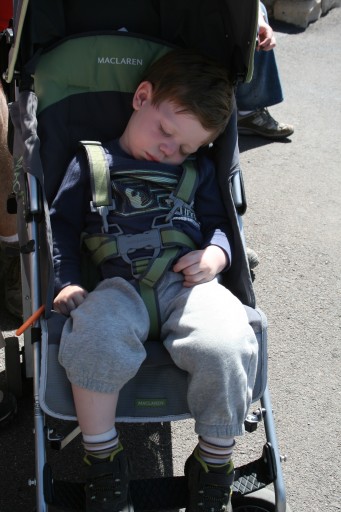 And then, we ended up feeling like this…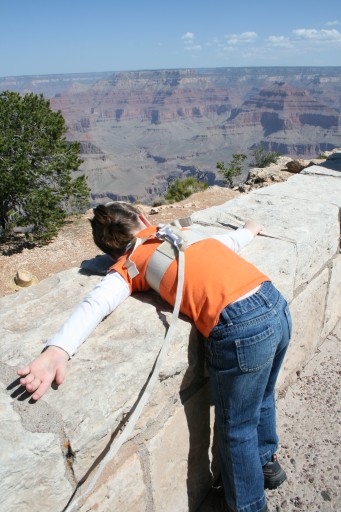 So, it was time to take a break and just sit and look out at the very edge of the world.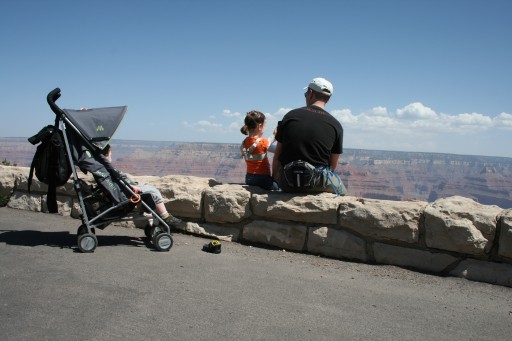 The bus ride back to civilization was crowded and we had a couple of squirrly kids on our hands.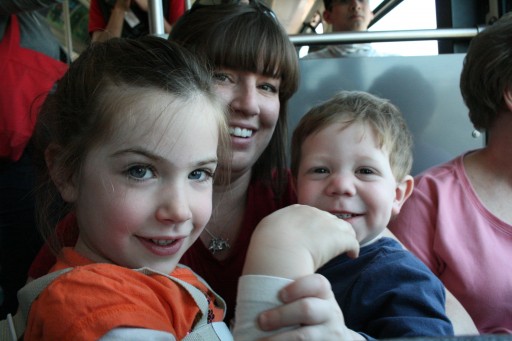 So when we got back to the hotel, we figured a little "off leash" time was in order.  And, by, did they ever love that.  Some previous resident of the hotel had set up an amazing fallen-log fort and it was just what these safety-confined children needed.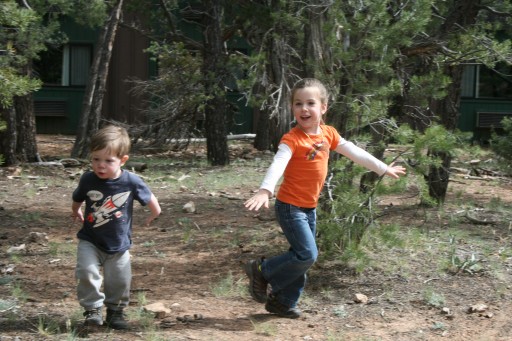 After that, it was one more sunset, one more breakfast and then a last look at a piece of majestic American terrain.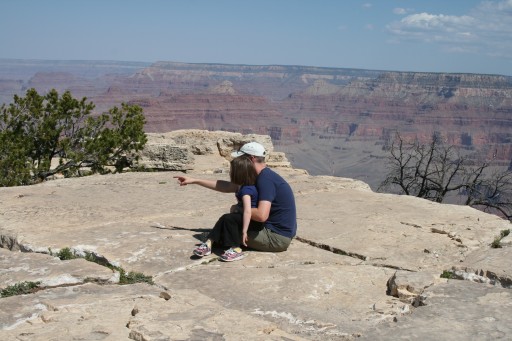 We piled back into the van and headed for home. We were so glad to share this experience with Grammie and Grandad and don't know how we would have managed without them.  Now we can consider that major item on our American West bucket list checked!