One of the realities of military life is that, when your family arrives in a new town, you know that the end of that place is just over a few horizons. You live your life in a sort of temporary way – nothing so precious that it's not possible to walk away from it. But, we spent four years in Vegas and, while many things about it drove us crazy (heat and wind, anyone?), I think we all found that we were surprised by the depth of roots there when it was time to leave.
After a low-key, use-up-the-leftover-pyrotechnics Fourth of July, it was time to really get ready for the movers. Even though someone else packed up all our stuff and did the heavy lifting, we still had to do quite a bit of work to be ready for that process. Pictures, shelves, & curtains had to come down. Holes in walls had to be spackled and touched up. Suitcases had to be packed for the week-long roadtrip looming before us and boxes of essentials readied for arrival at a new home in Dayton. Luckily, I was done with work by this point, so could spend days while the kids were in school getting the house ready. In fact, they were at school while the movers were packing us out, so they arrived home to lots of boxes one day.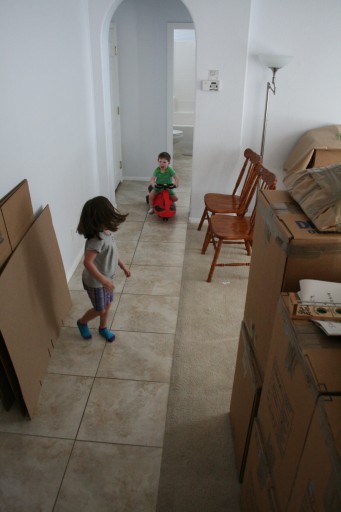 Turns out, an obstacle course of boxes was a pretty great way to spend an afternoon on the plasma car.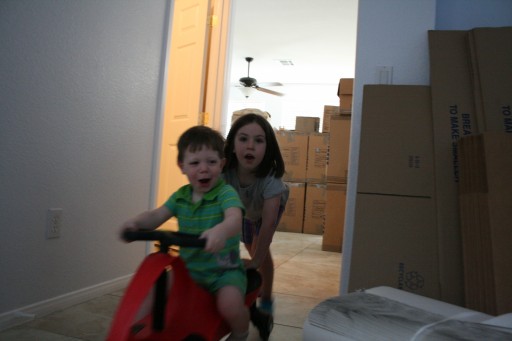 Although, I will admit that an obstacle course of boxes is a less-than-restful way to find your way to bed at night.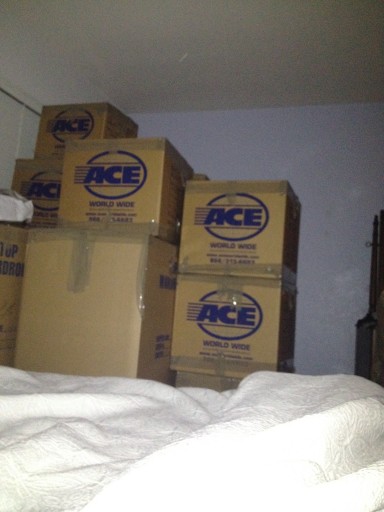 And, since there wasn't much to do in the house in the evenings with no stuff and all that time to work during the day, we made sure to get a few Las Vegas highlights checked off our list.  We didn't spend much time on the strip in our four years, so the kids had never seen the Bellagio fountains or the flowers there, so we went to visit one afternoon before dinner.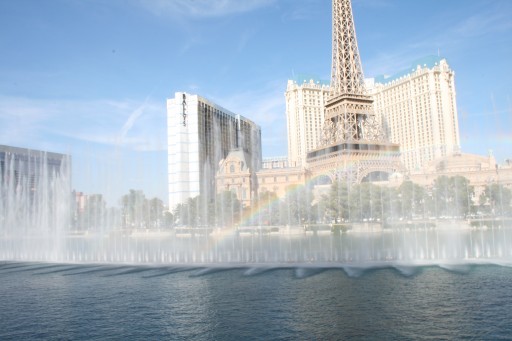 Surely the rainbow in the fountains that day was a sign of good things to come?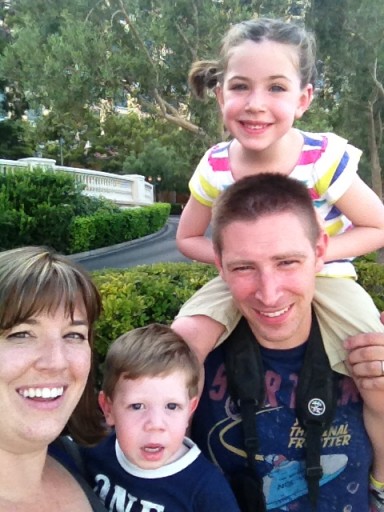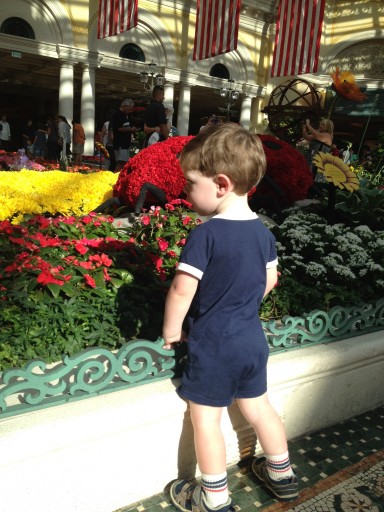 After three days of packing and truck loading (and a final job interview for me…talk about a stress-filled week!), it was time for the final load of boxes to drive away. This was our first move where we had kids who would know what was going on.  When we left Edwards, Ava was six months old and her source of stability was, simply, us. Both kids were leaving the only home they'd ever known and that had the potential to be pretty disruptive. So, we talked about it a lot and talked about what would happen with our stuff and how it would get to our new house. That's all pretty abstract, though, so we thought it might help to watch the truck drive away.
That day was a day of big goodbyes. It was the kids' last day at school – a place that they both loved and full of people who loved them. Thankfully, the kids did fine, but the teachers and I were sort of a blubbering mess. It took me so long to feel comfortable leaving my kids in daycare.  Bright Horizons was truly a blessing of love and comfort for all of us.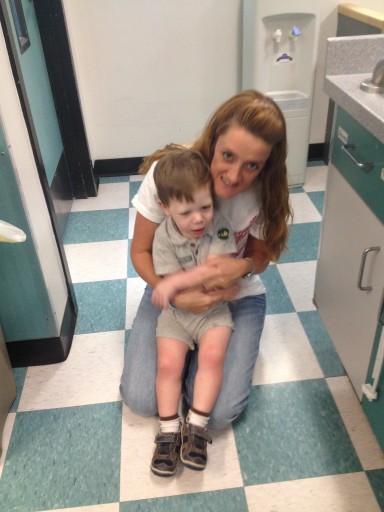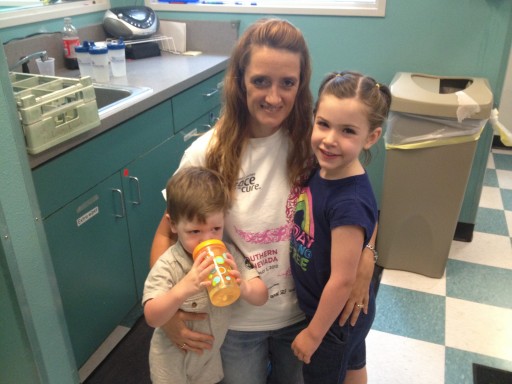 With Ms. Nettie, the only teacher who had them both and was still there when we left.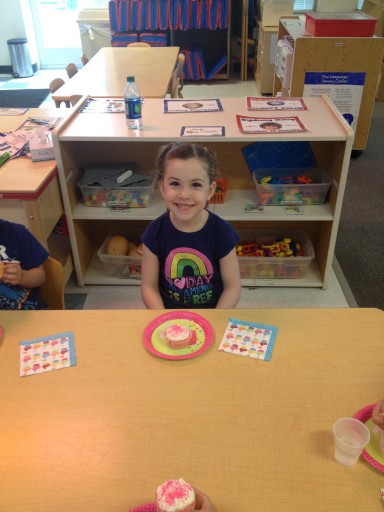 Last day of school cupcakes to share with her class.
We got home just in time to watch the last few boxes go on the truck and see it all drive away. But, like with all military moves, the departing family never does it alone. Of course, the Hoffmans were there to help us crazy-wave to our truck as it drove around the corner.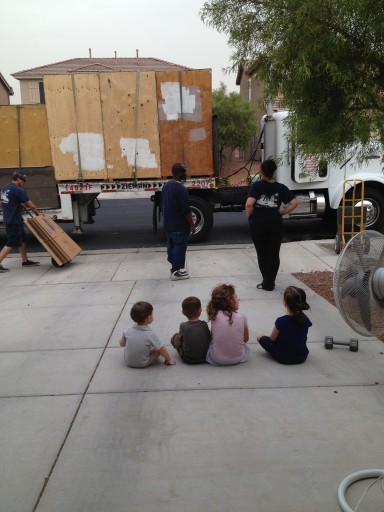 Just four Air Force kiddos, taking it all in stride.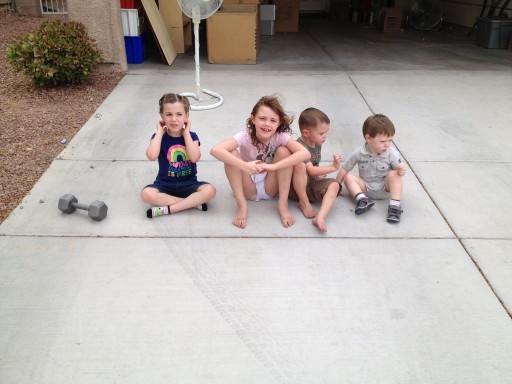 I can't even begin to describe the grody bums and feet we cleaned because of their perch. Some things about Vegas are NOT missed.

And, because there's been no major moment in the last six years for which the Hoffmans have not been present, they were even there for our last meal in our house – even though it was only in the generous spirit of the meal they provided.
The next morning was Matt's final out appointment at work, so the kids and I took it kind of easy first thing in the morning and camped out in our now-empty home. (Thank goodness for wi-fi!! Never, ever disconnect that until the day after you've left a house.)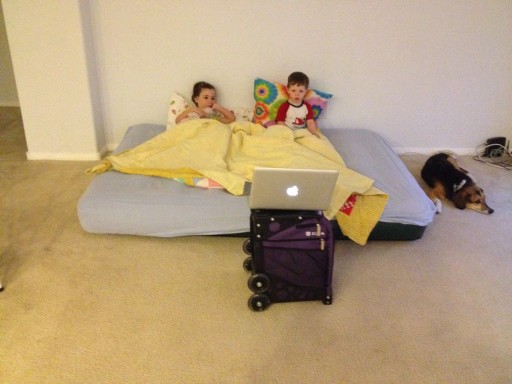 Then, to make it painfully obvious how much we would miss them, Sarah came over to deliver a vacuum cleaner and take my kids for the day. And, for her effort, Noah randomly threw up on her while they snuggled after nap. She didn't even bat an eye. Seriously. Is there anything that says friendship better than that?
We shared one last awesome Caspers/Hoffman family night with some take-out PF Changs and fun and then it was time for one last crazy-wave to say good bye.
In spite of all it's challenges (and maybe my best effort to the contrary), Vegas has forever become a place that will feel like home when we visit. And, as always, the people were the hardest to let go. It's such a strange and wonderful life we lead. Off to the next great adventure!