Since Noah's actual birthday was on a weekday, we elected to celebrate on the following weekend with a real party.  He had requested a Star Trek party, so we boarded the Starship Enterprise for a celebration.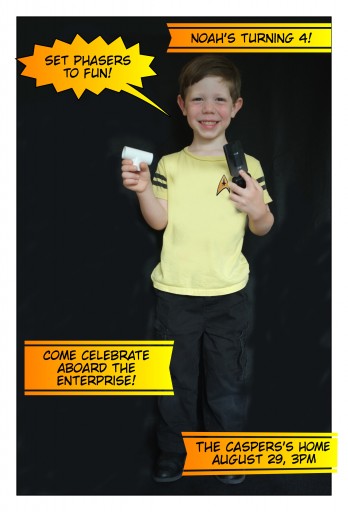 As I was planning the party, I did some searching on the web and Pinterest for ideas, but didn't find much off-the-shelf party stuff. I loved this post of  kid party ideas but found lots of stuff for adults, too. We were going for a smaller-scale party and didn't plan too much in the way of decor.  Mostly, the kids wanted to bounce in a bouncehouse, so we rented one from the base like we did last year.  This time, we got one with obstacles in the middle so they could "explore" the alien planet with less gravity than we have here on Earth.

For decorations, we hung our standard birthday banners, some new Star Trek fabric banners, the big 36″ balloons (Noah named them Kirk, Spock and Scotty) and that was about it.  Noah really wanted me to hang up curtains into the dining room so that he could pretend it was the Enterprise and make the "swoosh" sound when he walked through.  I couldn't find the curtains we had used for Ava's party, though, so he had to make the sound without the visual effect.  It ended up ok anyway.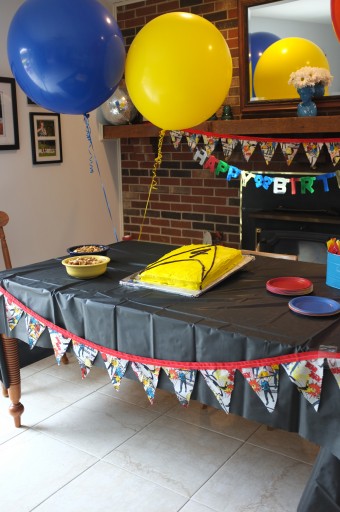 Since we had a small group here for the party, we did things backward.  Cake and ice cream first, then presents, and then lots of bouncing.  That gave us adults time to fix dinner before the kids were hungry and also gave them an outlet for all that sugar. It worked out so well that we might do it that way from now on. Reverse birthday parties rock!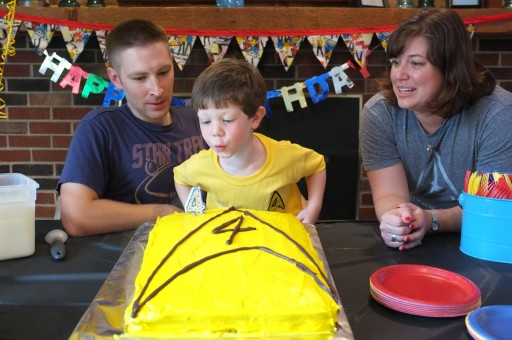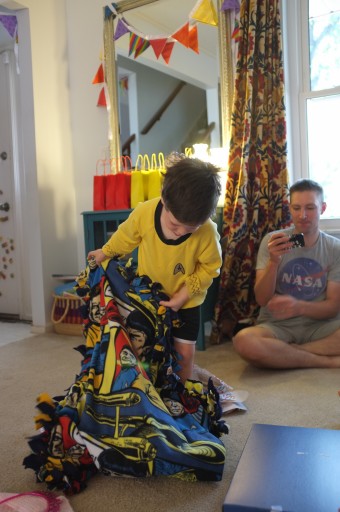 Ava made Noah a fleece Star Trek blanket as a gift.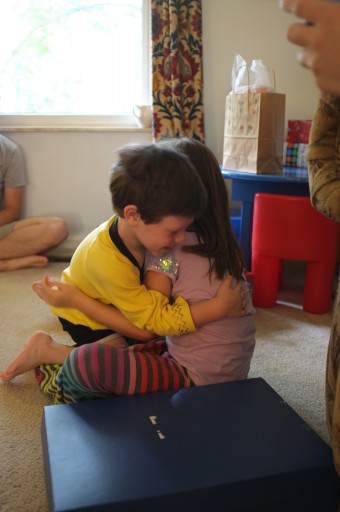 He loved it.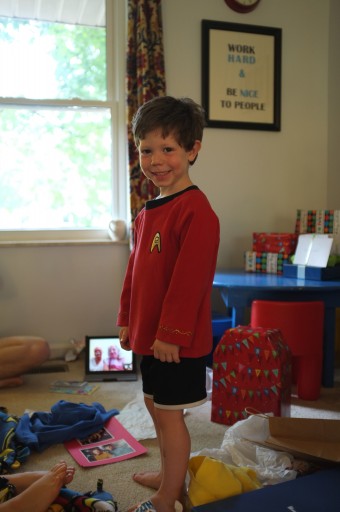 Grama made Noah a whole set of Star Trek shirts – Kirk, Spock & Scotty – and they get worn every day they are clean. On the other days, he wears his Reds gear.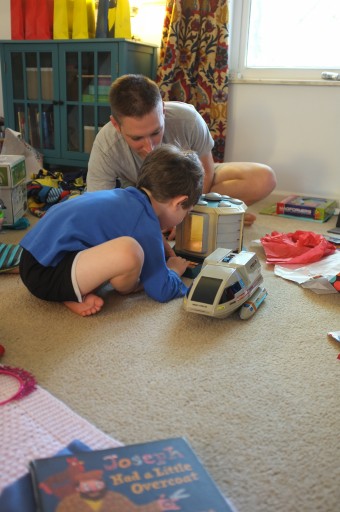 In addition to the costumes, Gramma and Grampa send some of Matt's old Star Trek toys our way. The transporter room and shuttle craft were huge hits (with both the big and small Trekkies in the house). To stick with the theme, Noah received a full armory of phasers.  Matt made him three (a real one and two prototypes) and Uncle Michael made two as well. Once he had opened his communicator from Auntie Brooke and a model Enterprise from us, he was a real-life space voyager.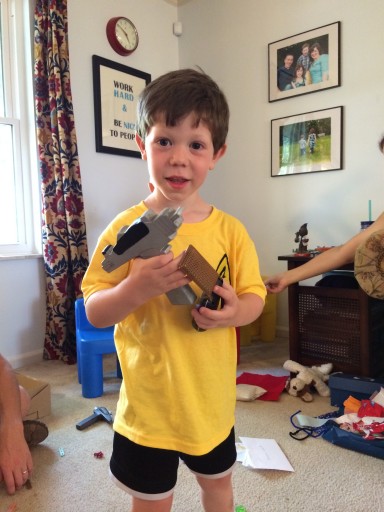 Auntie Moe scored an awesome sound machine that makes the "swoosh" door sound when you walk by it, so he has one less doorway to make the sound himself when he walks by.  We hung it in the doorway between the playroom and the kitchen so we get to hear it a LOT.
After presents, the kids bounced while we made hamburgers and then we all shared a meal together.
Image re-creation from last year's bounce house.
We sent everyone home with their own Star Trek command badge, a phaser, and an TOS Pez dispenser.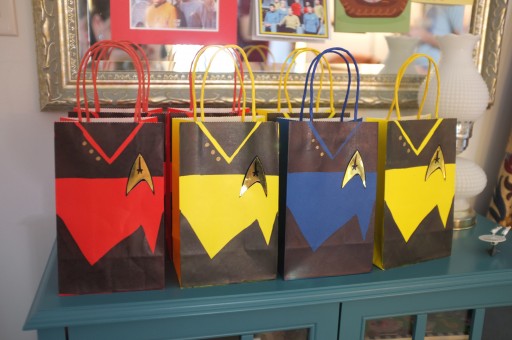 All in all, I think Noah had a great time and we have 1000% more Star Trek stuff in our house. We got to keep the bounce house through the long Labor Day weekend, so we enjoyed it for several hours in spite of the sporadic rain. Now that the party is over, we play Star Trek daily but, since we can't play baseball all winter, it's sort of nice to have a go-to indoor game to play for the quickly approaching Ohio winter.
Live long and prosper, Noah!